Each member of Board of Directors serves as an active ambassador of the Terra Foundation's global mission. Collectively, they contribute a wealth of experience and expertise in the fields of art history, museum administration, art collection and business management, communications, finance, and law, among numerous others, to both govern and manage the activities of the foundation.
Joe Gromacki, Chair
Joe Gromacki is a senior partner at the law firm of Jenner & Block LLP, where he chairs the firm's corporate/transactional practice and serves on the firm's governing committee. He is an active patron of the arts, serving on the board of trustees of the Art Institute of Chicago and several other museums and arts organizations. He is a member of the National Trust Council, a supporting organization for the National Trust for Historic Preservation. He also serves on the board of directors of the Chicago Botanic Garden. Additionally, Mr. Gromacki serves as a trustee of the Layton Art Collection, a foundation that owns an important collection of art that is exhibited at the Milwaukee Art Museum. He collects seventeenth and early eighteenth-century American furniture and related decorative arts, as well as rare books.
Huey Copeland
Huey Copeland is the Andrew W. Mellon Professor at the National Gallery of Art in Washington D.C. (2020–22). In addition to his role at the National Gallery of Art, Copeland has been art history faculty since 2005 at Northwestern University, where he also enjoyed affiliations to programs in African American, critical, gender, and performance studies. On January 1, 2021, he will assume a new post, BFC Presidential Associate Professor, in the Department of History of Art at the University of Pennsylvania. His research and teaching focus on global modern and contemporary art with an emphasis on articulations of Blackness in the modern visual field. Copeland currently serves on the International Advisory Board of Art History, the Curatorial Board of Iceberg Projects, and the Board of the International Consortium of Critical Theory Programs. In 2019, his contributions to the field were recognized by the High Museum of Art with the David C. Driskell Prize in African American Art and Art History. An editor of October and a contributing editor of Artforum, Copeland has also published in numerous journals, including American Art, Art Journal, ASAP/J, and The Brooklyn Rail, as well as in international exhibition catalogues and essay collections. Copeland earned a BA from the University of Michigan, and both an MA and PhD in the history of art from the University of California, Berkeley.
Nora Daley
Nora Daley is the Chair of the City of Chicago's Cultural Advisory Council and Vice Chair of the Terra Foundation of American Art. Daley serves on the board and executive committee of After School Matters, the Frances Xavier Warde School, Navy Pier Inc., and Steppenwolf Theatre Company. She also serves on the advisory board of the Illinois Justice Project and the education committee for the Museum of Contemporary Art. Ms. Daley received a BA in Art History from Fairfield University. Daley lives in Chicago with her husband and three children.
Charles Harper
Charles Harper manages Harper Insights, Inc., an investment management firm. He is a board member of the Pennsylvania Academy of Fine Arts (PAFA), the Ball State University Foundation, and Art Encounter. Mr. Harper serves on the Art Institute's Committee for Asian Art and the Asian Art Council Board. He has a BA in fine arts and mathematics from Northwestern University and an MBA from Harvard Business School. With his wife Kathleen, Mr. Harper collects American Abstract Art, Chicago Imagism, and South East Asian Art.
Stephanie Harris
Stephanie Harris is a Trustee of the University of Chicago Medical Center, the Art Institute of Chicago and the Field Foundation of Illinois. She is a member of the Woman's Board of the Art Institute of Chicago and the Founders' Board of Children's Memorial Hospital. For three years, she served at the Metropolitan Museum of Art as Chair of the Apollo Circle, a group dedicated to cultivating interest in the Metropolitan among young professionals aged 23 to 40.
Erica Hirshler
Erica E. Hirshler is the Croll Senior Curator of American Paintings, at the Museum of Fine Arts, Boston. An expert in late nineteenth and early twentieth-century American painting, Dr. Hirshler has published extensively on John Singer Sargent, Mary Cassatt, Childe Hassam, Dennis Bunker, William Merritt Chase, Winslow Homer, and women artists and collectors. She is particularly interested in the artistic exchange between the United States and Europe and in issues of national identity; she also studies Boston's history, art, and patronage. Dr. Hirshler holds a BA from Wellesley College and a PhD from Boston University; she has lectured at museums and other cultural institutions across the United States, Europe, and Japan.
Hirshler's most recent exhibition was William Merritt Chase (2016); in addition to her essay "Old Masters Meet New Women," she wrote a small book to introduce several of Chase's favored themes (William Merritt Chase, 2016). Her other publications include a study of Childe Hassam's iconic At Dusk: Boston Common at Twilight (2015) and the highly-praised Sargent's Daughters: The Biography of a Painting (2009). She co-organized the exhibitions and contributed essays for John Singer Sargent Watercolors in 2013 and Americans in Paris 1860–1900 in 2006; and curated A Studio of Her Own: Women Artists in Boston 1870–1940 (2001) and Dennis Miller Bunker: American Impressionist (1995). She has contributed to several other important shows, among them The Lure of Italy (1992), John Singleton Copley (1995), Mary Cassatt (1998), John Singer Sargent (1998), Edmund Tarbell (2001), Childe Hassam (2004), Impressionism Abroad: Boston and French Painting (2005), Sargent and the Sea (2009), and Sargent: Portraits of Artists and Friends (2015). She is currently planning an exhibition about Sargent and fashion.
Michael Leja
Michael Leja is professor of art history and director of the program in visual arts at the University of Pennsylvania School of Arts. He previously taught at Northwestern University, the Massachusetts Institute of Technology, Williams College, and the University of Delaware. Mr. Leja's area of specialization is the visual arts of the nineteenth and twentieth centuries, primarily in the United States, topics in which he has authored books and numerous catalogs and articles. The Terra Foundation has engaged him in the past to serve in an advisory capacity and as a grant reader. Mr. Leja earned his MA and PhD in fine arts from Harvard University.
Henri Loyrette
Henri Loyrette is an art historian and a member of the Conseil d'Etat (French Council of State)—a body that acts both as legal advisor to the executive branch and as the supreme court for administrative justice. He also serves as president of Admical, a French organization dedicated to corporate philanthropy. Mr. Loyrette was formerly the president and director of the Musée du Louvre (2001–2013) and is recognized for expanding the display of the museum's collections, as well as the museum itself by opening a location in Lens, France, in December 2012, and securing an agreement to open a future branch in Abu Dhabi, UAE. Prior to heading the Louvre, he was at the Musée d'Orsay for 23 years, where he was appointed curator in 1978 and director in 1994. Mr. Loyrette is a noted scholar of nineteenth-century French art, notably an expert in the work of Edgar Degas. Throughout his distinguished career, he has held important positions in several French cultural organizations, including serving as the secretary-general of the French Committee on Art History.
Raymond J. McGuire
Raymond J. McGuire is the Vice Chairman of Citigroup and Chairman of Citi's Banking, Capital Markets and Advisory ("BCMA"). Mr. McGuire is a member of the Institutional Clients Group Executive Committee and the Institutional Clients Group Business Practices Committee and is a Board Member of Citigroup Global Markets Inc. Prior to his current roles, Mr. McGuire had a 13 year tenure as Citi's Global Head of Corporate and Investment Banking ("CIB") whose clients generate over $20 Billion of global revenue annually. Prior to joining Citi, Mr. McGuire was the Global Co-Head of Mergers & Acquisitions at Morgan Stanley; Managing Director in the Mergers and Acquisitions Group of Merrill Lynch & Co., Inc.; and one of the original members of Wasserstein Perella & Co., Inc. becoming Partner/Managing Director in 1991. He started his career in 1984 in the Mergers and Acquisitions Group of The First Boston Corporation. Mr. McGuire serves as a Board member of the American Museum of Natural History, the Carnegie Endowment for International Peace, the Citi Foundation, the De La Salle Academy (Chairman Emeritus), the Harvard Club of New York, the Hotchkiss School (Vice President), the New York City Police Foundation, the New York-Presbyterian Hospital, the New York Public Library (Executive Committee and Co-Chairman Nominating Committee), the Studio Museum in Harlem (Chairman), Think450, and the Whitney Museum of American Art (Executive Committee). Mr. McGuire is also a member of the Cultural Affairs Advisory Commission for the New York City Department of Cultural Affairs. He was recognized by New York's Avenue Magazine as one of New York's "50 Smartest" and by Crain's as one of the "Most Connected New Yorkers." ARTnews includes Mr. McGuire as part of its list of "Top 200 Collectors." Mr. McGuire received his AB, MBA, and JD from Harvard University.
Clare Muñana
Clare Muñana served on the Terra Foundation's board of directors from 2009–14, serving five of her eight eligible years. She has worked with not-for-profit and public and private sector clients in the US, Europe, Africa, and Latin America, and has a strong interest in education and youth. Muñana has worked on various Chicago City Hall projects and served for 10 years as vice president of the City of Chicago Board of Education. Muñana is a trustee and chair of the International Committee of the Aspen Institute, and she serves as a board member of the Chicago Council on Global Affairs, the Middle East Investment Initiative, and After School Matters, as well as has served on numerous other civic boards and commissions. Muñana earned a BA from Boston College, an MA in international economics and politics from the Paul H. Nitze School of Advanced International Studies (SAIS) at Johns Hopkins University, and an MBA from the Kellogg Graduate School of Management at Northwestern University. She has also been named a Chevalier de l'Ordre National du Mérite by the French government.
Morton Schapiro
Morton Schapiro began his term as the sixteenth president of Northwestern University in 2009. He is a professor of economics and is among the nation's leading authorities on the economics of higher education, with expertise in college financing, affordability, and trends in educational costs and student aid. He has written or edited nine books and more than 100 articles. He has received research grants and contracts from numerous foundations and boards including the National Science Foundation and the US Department of Education. Mr. Schapiro is also a member of the American Academy of Arts and Sciences and of the National Academy of Education.
Carl D. Thoma
Carl Thoma is a Founder and Managing Partner of Thoma Bravo, a private equity firm rooted to 1980 with a focus on software and technology companies that currently manages a series of funds representing more than $83 billion of equity commitments. Carl has served as Chairmen of the National Venture Capital Association.
Inspired by their rural upbringing, passion for philanthropy and decades of art collecting, the Thomas founded the Carl & Marilynn Thoma Foundation to support arts and education initiatives through exhibitions, fellowships, publications, and endowments to create opportunities for young people in rural areas. The Foundation lends and exhibits artworks from the Thomas' collection of 1500 objects across five distinct fields: Art of the Spanish Americas, Digital & Media, Japanese Bamboo, Post War Abstract and New Mexico Modernist (to include Native American art).
Carl currently serves on the boards of the Hirshhorn Museum, McKnight Center for the Performing Arts, New Mexico School for the Arts, Phoenix Art Museum, SITE Santa Fe, and the Terra Foundation for American Art.
Carl earned his BS in agricultural economics from Oklahoma State University. He went on to complete his MBA at Stanford Graduate School of Business. Carl resides in Santa Fe, , Chicago and Paradise Valley, Arizona. The Thomas also own and operate Van Duzer Vineyards, an 140-acre estate Pinot Noir winery in the Willamette Valley of Oregon. The Thomas have two adult children who live in Santa Fe and Scottsdale.
Adam D. Weinberg
Adam D. Weinberg became the Alice Pratt Brown Director of the Whitney Museum in October 2003. During his tenure, the Whitney has presented major exhibitions on a range of artists, including Jeff Koons, Wade Guyton, William Eggleston, Sherrie Levine, Glenn Ligon, Gordon Matta-Clark, Georgia O'Keeffe, and Ed Ruscha; offered award-winning educational programs; and experienced dramatic growth in the permanent collection. In 2010, the Whitney launched a capital campaign for the construction of a new 220,000-square-foot building in the Meatpacking District, which opened in 2015.
From 1999 to 2003, Mr. Weinberg was the Director of the Addison Gallery of American Art at Phillips Academy. Prior to that, he was Senior Curator and Curator of the Permanent Collection at the Whitney. In 1991, Mr. Weinberg became the Artistic and Program Director of the American Center in Paris. He first joined the Whitney in 1989 as Director of the Whitney at Equitable Center. Beginning in 1981, Mr. Weinberg served as Director of Education and Assistant Curator at the Walker Art Center.
Mr. Weinberg has curated exhibitions on artists from Edward Hopper, and Isamu Noguchi to Alex Katz, Sol Lewitt, and Terry Winters. He has also organized numerous thematic exhibitions, including: The Architectural Unconscious: James Casebere and Glen Seator (2000); and Vanishing Presence (1989). For the Whitney, he curated the groundbreaking series Views from Abroad: European Perspectives on American Art (1995), with the Stedelijk Museum, the Museum für Moderne Kunst, and the Tate Gallery. He has also curated major public projects with such artists as Christian Boltanski, Yoko Ono, Nam June Paik, and Andrea Zittel. He is the author of numerous catalogues and essays on contemporary and modern art.
Mr. Weinberg serves as a board member of several organizations, including the American Academy of Rome, Andy Warhol Foundation for the Visual Arts, Storm King Art Center, and the Colby College Museum of Art. He holds a BA from Brandeis University and a master's degree from the Visual Studies Workshop, the State University of New York at Buffalo.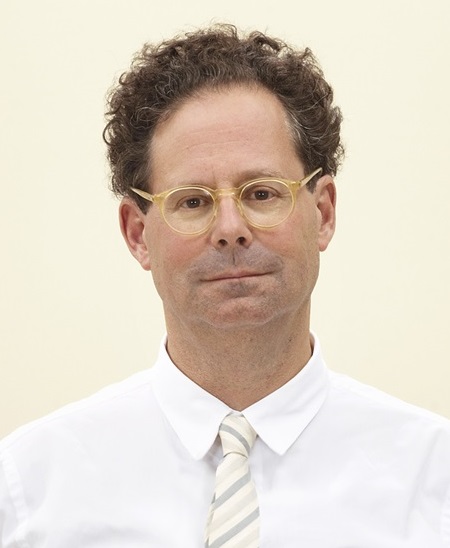 Gregory T. Williamson
Gregory Williamson is a globally recognized chief investment officer, risk manager, and investment organizational strategist with 35 years of experience in the global investment arena. He is the current head of strategy for Pluribus Labs, an investment management company, which employs novel applications of cutting edge data science techniques and a unique exposure-driven investment approach to the markets to deliver diversifying, value-additive performance. Prior to Pluribus Labs, Mr. Williamson was the chief investment officer of the American Red Cross, where he oversaw $5.5 billion in endowment, liquidity, defined benefit and defined contribution plan assets, and he was named Institutional Investor's "Turnaround of the Year" in 2017 for his successful efforts in restructuring the organization's investments, risk management, technology, operations, and governance portfolios. Mr. Williamson holds an MBA with honors from the J.L. Kellogg Graduate School of Management at Northwestern University. He is a member of the Economics Club of Chicago, the Chicago Council on Global Affairs, the World Economic Forum, and the Milken Institute's Global Investment and Finance Committee.
Jay Xu
Jay Xu is the director & CEO of the Asian Art Museum of San Francisco and is the first Chinese American director of a major US art museum. Under his leadership, the museum has organized a wide range of Asian art exhibitions and made a number of significant acquisitions. His vision for the Asian Art Museum is to embrace and explore the interconnectivity between Asia and the rest of the world, and between traditional and contemporary artistic practices. Dr. Xu obtained his PhD in early Chinese art and archaeology at Princeton University, and has more than thirty years of international museum experience as a research scholar, curator, and museum director. He previously served as assistant to the museum director at the Shanghai Museum and curator of Chinese art at the Seattle Art Museum. He also served as head of the Asian art department and chairman of the department of Asian and Ancient Art at the Art Institute of Chicago. A dedicated, award-winning scholar of Chinese art, Xu is well-published, particularly on ancient Chinese bronzes and archaeology, and has lectured extensively on Asian art and museum practice. He was elected a fellow of the American Academy of Arts and Sciences in 2015.