Each member of Board of Directors serves as an active ambassador of the Terra Foundation's global mission. Collectively, they contribute a wealth of experience and expertise in the fields of art history, museum administration, art collection and business management, communications, finance, and law, among numerous others, to both govern and manage the activities of the foundation.
Joe Gromacki, Chair
Joe Gromacki is a senior partner at the law firm of Jenner & Block LLP, where he chairs the firm's corporate/transactional practice and serves on the firm's governing committee. He is an active patron of the arts, serving on the board of trustees of the Art Institute of Chicago and several other museums and arts organizations. He is a member of the National Trust Council, a supporting organization for the National Trust for Historic Preservation. He also serves on the board of directors of the Chicago Botanic Garden. Additionally, Mr. Gromacki serves as a trustee of the Layton Art Collection, a foundation that owns an important collection of art that is exhibited at the Milwaukee Art Museum. He collects seventeenth and early eighteenth-century American furniture and related decorative arts, as well as rare books.
Huey Copeland
Huey Copeland is the Andrew W. Mellon Professor at the National Gallery of Art in Washington D.C. (2020–22). In addition to his role at the National Gallery of Art, Copeland has been art history faculty since 2005 at Northwestern University, where he also enjoyed affiliations to programs in African American, critical, gender, and performance studies. On January 1, 2021, he will assume a new post, BFC Presidential Associate Professor, in the Department of History of Art at the University of Pennsylvania. His research and teaching focus on global modern and contemporary art with an emphasis on articulations of Blackness in the modern visual field. Copeland currently serves on the International Advisory Board of Art History, the Curatorial Board of Iceberg Projects, and the Board of the International Consortium of Critical Theory Programs. In 2019, his contributions to the field were recognized by the High Museum of Art with the David C. Driskell Prize in African American Art and Art History. An editor of October and a contributing editor of Artforum, Copeland has also published in numerous journals, including American Art, Art Journal, ASAP/J, and The Brooklyn Rail, as well as in international exhibition catalogues and essay collections. Copeland earned a BA from the University of Michigan, and both an MA and PhD in the history of art from the University of California, Berkeley.
Nora Daley
Nora Daley is the Chair of the City of Chicago's Cultural Advisory Council and Vice Chair of the Terra Foundation of American Art. Daley serves on the board and executive committee of After School Matters, the Frances Xavier Warde School, Navy Pier Inc., and Steppenwolf Theatre Company. She also serves on the advisory board of the Illinois Justice Project and the education committee for the Museum of Contemporary Art. Ms. Daley received a BA in Art History from Fairfield University. Daley lives in Chicago with her husband and three children.
Amina Dickerson
Amina Dickerson is president of Dickerson Global Advisors, a leadership coaching and consulting practice, employing over 35 years of leadership experience in the non-profit, museum, corporate, and philanthropy sectors. Her work is heavily focused on the intersection of arts, social justice, and community. She has supported a broad array of organizations, including an appointment as co-interim director of the University of Chicago's Smart Museum of Art. Previously, Dickerson served as president of the DuSable Museum of African American History and held leadership positions at the Smithsonian National Museum of African Art, the Chicago Historical Society, and the Woods Fund of Chicago. She served on the advisory committee for the Terra Foundation's Art Design Chicago initiative and as an advisor and facilitator to The Salzburg Global Seminar program for Young Cultural Innovators. She is Chair of the Chicago's Cultural Advisory Council and the Art Institute of Chicago's Leadership Advisory Committee, Vice President of the Lloyd A. Fry Foundation, and is an advisor to the National Museum of African American History and Culture's special initiative for HBCU museums. Dickerson began her career in the theater, studying at Emerson College in Boston and later earned an arts management MA from the American University in Washinton, DC. She held appointments as a Newberry Library Fellow and as Distinguished Visitor with the John D. and Catherine T. MacArthur Foundation and is included in the African American HistoryMakers video archive at the Library of Congress.
Kaywin Feldman
Kaywin Feldman is director of the National Gallery of Art in Washington, DC. Prior to joining the National Gallery in March of 2019, Feldman led the Minneapolis Institute of Art as its Nivin and Duncan MacMillan Director and President from 2008 to 2019 and directed the Memphis Brooks Museum of Art from 1999 to 2007. She is a trustee of the National Trust for Historic Preservation, the White House Historical Association, and the Chipstone Foundation. She is a past president of the Association of Art Museum Directors and past chair of the American Alliance of Museums. She lectures and publishes widely on many aspects of museums in the twenty-first century. In 2021 Forbes magazine listed Feldman as one of the "50 Over 50" most visionary women making an impact on society.
Stephanie Harris
Stephanie Harris is a Trustee of the University of Chicago Medical Center, the Art Institute of Chicago and the Field Foundation of Illinois. She is a member of the Woman's Board of the Art Institute of Chicago and the Founders' Board of Children's Memorial Hospital. For three years, she served at the Metropolitan Museum of Art as Chair of the Apollo Circle, a group dedicated to cultivating interest in the Metropolitan among young professionals aged 23 to 40.
Erica Hirshler
Erica E. Hirshler is the Croll Senior Curator of American Paintings, at the Museum of Fine Arts, Boston. An expert in late nineteenth and early twentieth-century American painting, Dr. Hirshler has published extensively on John Singer Sargent, Mary Cassatt, Childe Hassam, Dennis Bunker, William Merritt Chase, Winslow Homer, and women artists and collectors. She is particularly interested in the artistic exchange between the United States and Europe and in issues of national identity; she also studies Boston's history, art, and patronage. Dr. Hirshler holds a BA from Wellesley College and a PhD from Boston University; she has lectured at museums and other cultural institutions across the United States, Europe, and Japan.
Hirshler's most recent exhibition was William Merritt Chase (2016); in addition to her essay "Old Masters Meet New Women," she wrote a small book to introduce several of Chase's favored themes (William Merritt Chase, 2016). Her other publications include a study of Childe Hassam's iconic At Dusk: Boston Common at Twilight (2015) and the highly-praised Sargent's Daughters: The Biography of a Painting (2009). She co-organized the exhibitions and contributed essays for John Singer Sargent Watercolors in 2013 and Americans in Paris 1860–1900 in 2006; and curated A Studio of Her Own: Women Artists in Boston 1870–1940 (2001) and Dennis Miller Bunker: American Impressionist (1995). She has contributed to several other important shows, among them The Lure of Italy (1992), John Singleton Copley (1995), Mary Cassatt (1998), John Singer Sargent (1998), Edmund Tarbell (2001), Childe Hassam (2004), Impressionism Abroad: Boston and French Painting (2005), Sargent and the Sea (2009), and Sargent: Portraits of Artists and Friends (2015). She is currently planning an exhibition about Sargent and fashion.
Raymond J. McGuire
Raymond J. McGuire is the Vice Chairman of Citigroup and Chairman of Citi's Banking, Capital Markets and Advisory ("BCMA"). Mr. McGuire is a member of the Institutional Clients Group Executive Committee and the Institutional Clients Group Business Practices Committee and is a Board Member of Citigroup Global Markets Inc. Prior to his current roles, Mr. McGuire had a 13 year tenure as Citi's Global Head of Corporate and Investment Banking ("CIB") whose clients generate over $20 Billion of global revenue annually. Prior to joining Citi, Mr. McGuire was the Global Co-Head of Mergers & Acquisitions at Morgan Stanley; Managing Director in the Mergers and Acquisitions Group of Merrill Lynch & Co., Inc.; and one of the original members of Wasserstein Perella & Co., Inc. becoming Partner/Managing Director in 1991. He started his career in 1984 in the Mergers and Acquisitions Group of The First Boston Corporation. Mr. McGuire serves as a Board member of the American Museum of Natural History, the Carnegie Endowment for International Peace, the Citi Foundation, the De La Salle Academy (Chairman Emeritus), the Harvard Club of New York, the Hotchkiss School (Vice President), the New York City Police Foundation, the New York-Presbyterian Hospital, the New York Public Library (Executive Committee and Co-Chairman Nominating Committee), the Studio Museum in Harlem (Chairman), Think450, and the Whitney Museum of American Art (Executive Committee). Mr. McGuire is also a member of the Cultural Affairs Advisory Commission for the New York City Department of Cultural Affairs. He was recognized by New York's Avenue Magazine as one of New York's "50 Smartest" and by Crain's as one of the "Most Connected New Yorkers." ARTnews includes Mr. McGuire as part of its list of "Top 200 Collectors." Mr. McGuire received his AB, MBA, and JD from Harvard University.
Eric T. McKissack
Eric T. McKissack, CFA, is an investment executive, entrepreneur, and independent board member. As founder and former chief executive officer of Channing Capital Management, he was at the helm of the Chicago-based investment manager for 15 years. Previously, he served as vice chairman and co-chief investment officer of Ariel Investments. McKissack has also served in other corporate and nonprofit board roles. He currently serves on boards of Farmer Mac (NYSE:AGM); Northern Trust's FlexShares ETF Funds, where he serves as chair; Morgan Stanley Pathway Funds; and McKissack & McKissack, a family and privately held engineering and design firm based in Washington, DC. His civic engagements include the boards of The Arts Club of Chicago, Graham Foundation, Berkeley Haas School of Business, and the Grand Victoria Foundation, which he chairs. McKissack is also a trustee of The Art Institute of Chicago and a member of the Economic Club of Chicago. He earned his SB from Massachusetts Institute of Technology and his MBA from the Haas School of Business at the University of California, Berkeley.
Victoria Rogers
Victoria Rogers is a strategist focused on how to build a more equitable future for the most people. She is currently an Advisor at X (formerly Google X), where she is pursuing research and developing strategy for a confidential early-stage exploration to find a breakthrough technology business for Alphabet. Rogers holds an MBA from Stanford University, an MFA in industrial and civic service design from Parsons School of Design, and a BA in art history from Yale University. She was formerly the director of arts at Kickstarter, where she established, led, and executed the crowdfunding platform's efforts to serve the cultural community, raising over $9.6 million for 220 projects from over 93,000 people. Rogers is focused on the role culture has in shaping community; she is an executive board member at the Brooklyn Museum and co-founder and co-chair of the Black Trustee Alliance for Art Museums.
Ravi Saligram
Ravi Saligram is the President, CEO, and a member of the Board of Directors of Newell Brands, a leading consumer products company. Saligram joined Newell Brands at the end of 2019 to re-establish the company as a premier consumer products company at the forefront of evolving needs and lifestyles. Prior to joining Newell Brands, he served as CEO of Ritchie Bros., the world's largest onsite heavy equipment auctioneer, and CEO of OfficeMax Inc. Saligram has lived in six countries and worked in many more during his nearly 40-year career, which began at Leo Burnett in Chicago. Ravi earned an MBA from the University of Michigan, Ann Arbor, and an electrical engineering degree from Bangalore University, India.
Catherine Sarr
Catherine Sarr is the founder and CEO of ALMASIKA, a fine jewelry brand rooted in symbols, shapes, and stories that transcend cultural boundaries. Through the Sarr Collection, Catherine and her husband Mamadou-Abou Sarr support emerging artists, notably with the PRIX Sarr in partnership with Les Beaux-Arts de Paris and a residency program in the United States in partnership with Villa Albertine. Sarr is involved in several philanthropic and civic activities, including being a member of the Palais de Tokyo International Board and a member of the Committee on Arts of Africa of the Art Institute of Chicago. The French government bestowed the award of Knight of the Order of Arts and Letters (Chevalier de l'Ordre des Arts et des Lettres) on Sarr in 2022. Catherine is a French national and lives in Chicago with her husband Mamadou-Abou Sarr and their children.
Adam D. Weinberg
Adam D. Weinberg became the Alice Pratt Brown Director of the Whitney Museum in October 2003. During his tenure, the Whitney has presented major exhibitions on a range of artists, including Jeff Koons, Wade Guyton, William Eggleston, Sherrie Levine, Glenn Ligon, Gordon Matta-Clark, Georgia O'Keeffe, and Ed Ruscha; offered award-winning educational programs; and experienced dramatic growth in the permanent collection. In 2010, the Whitney launched a capital campaign for the construction of a new 220,000-square-foot building in the Meatpacking District, which opened in 2015.
From 1999 to 2003, Mr. Weinberg was the Director of the Addison Gallery of American Art at Phillips Academy. Prior to that, he was Senior Curator and Curator of the Permanent Collection at the Whitney. In 1991, Mr. Weinberg became the Artistic and Program Director of the American Center in Paris. He first joined the Whitney in 1989 as Director of the Whitney at Equitable Center. Beginning in 1981, Mr. Weinberg served as Director of Education and Assistant Curator at the Walker Art Center.
Mr. Weinberg has curated exhibitions on artists from Edward Hopper, and Isamu Noguchi to Alex Katz, Sol Lewitt, and Terry Winters. He has also organized numerous thematic exhibitions, including: The Architectural Unconscious: James Casebere and Glen Seator (2000); and Vanishing Presence (1989). For the Whitney, he curated the groundbreaking series Views from Abroad: European Perspectives on American Art (1995), with the Stedelijk Museum, the Museum für Moderne Kunst, and the Tate Gallery. He has also curated major public projects with such artists as Christian Boltanski, Yoko Ono, Nam June Paik, and Andrea Zittel. He is the author of numerous catalogues and essays on contemporary and modern art.
Mr. Weinberg serves as a board member of several organizations, including the American Academy of Rome, Andy Warhol Foundation for the Visual Arts, Storm King Art Center, and the Colby College Museum of Art. He holds a BA from Brandeis University and a master's degree from the Visual Studies Workshop, the State University of New York at Buffalo.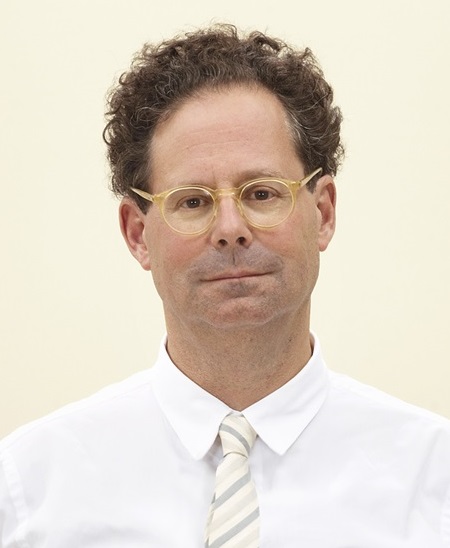 Amanda Williams
Amanda Williams is a visual artist trained as an architect. Her creative practice employs color as an operative means for drawing attention to the complex ways race informs how we assign value to the spaces we occupy. Williams' installations, sculptures, paintings, and works on paper seek to inspire new ways of looking at the familiar and in the process, raise questions about the state of urban space and ownership in America. Her breakthrough series, Color(ed) Theory, a set of condemned south side of Chicago houses, painted in a monochrome palette derived from racially and culturally codified color associations, was recently named by the New York Times as one of the 25 most significant works of postwar architecture in the world. Her ongoing series, What Black Is This You Say?, is a multi-platform project that explores the wide range of meanings and conceptual colors that connote Blackness. Using her Instagram account as an initial platform to challenge and celebrate Black lives, the work has evolved into paintings, soundworks, and a yearlong public installation in New York. Photo by Tony Smith.
Jay Xu
Jay Xu is the director & CEO of the Asian Art Museum of San Francisco and is the first Chinese American director of a major US art museum. Under his leadership, the museum has organized a wide range of Asian art exhibitions and made a number of significant acquisitions. His vision for the Asian Art Museum is to embrace and explore the interconnectivity between Asia and the rest of the world, and between traditional and contemporary artistic practices. Dr. Xu obtained his PhD in early Chinese art and archaeology at Princeton University, and has more than thirty years of international museum experience as a research scholar, curator, and museum director. He previously served as assistant to the museum director at the Shanghai Museum and curator of Chinese art at the Seattle Art Museum. He also served as head of the Asian art department and chairman of the department of Asian and Ancient Art at the Art Institute of Chicago. A dedicated, award-winning scholar of Chinese art, Xu is well-published, particularly on ancient Chinese bronzes and archaeology, and has lectured extensively on Asian art and museum practice. He was elected a fellow of the American Academy of Arts and Sciences in 2015.